Book a stay that is just as stylish as one of the world's most fashionable cities if you want to really experience it. Here is a list of seven of the most stylish places to stay in Paris, ranging from lavish suites where the decor is inspired by a novel written in the 19th century to a boutique hotel located in the heart of the city that is housed in a building that is typically French.

COQ Hotel Paris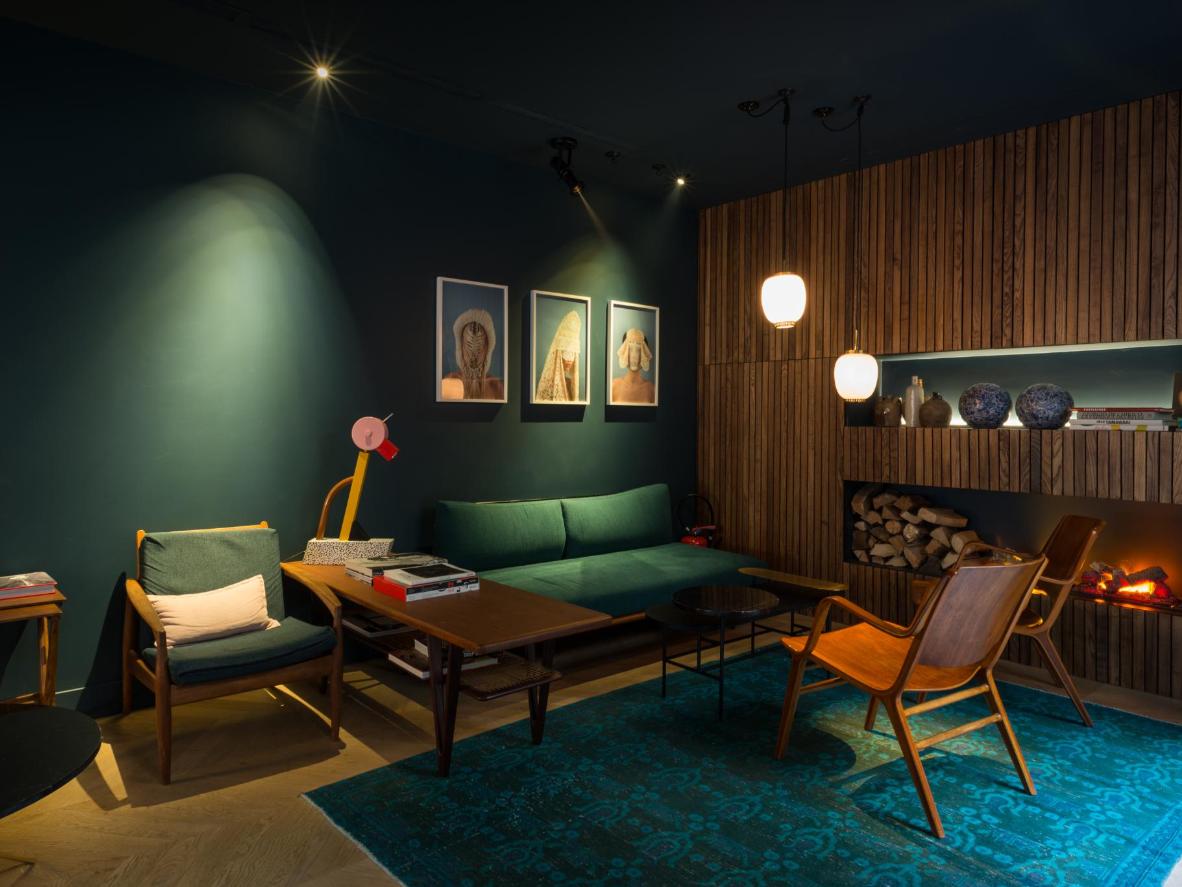 The
COQ Hotel Paris
is in the 13th arrondissement, which is a very diverse area. The name COQ stands for "Community of Quality." Its warm and welcoming public spaces, which include a sun- and plant-filled conservatory, a comfy sitting room with a
fireplace
, and a stylish and minimalist breakfast room, are examples of the homey spirit that permeates the establishment. You can anticipate muted, natural colours and eye-catching mid-century furnishings in this exceptional presentation of the Parisian style's understated aesthetic. In addition, a delicious
traditional French breakfast
consisting of fresh loaves of bread,
croissants
,
fruit juices
, and jams is provided.
Hôtel Montecristo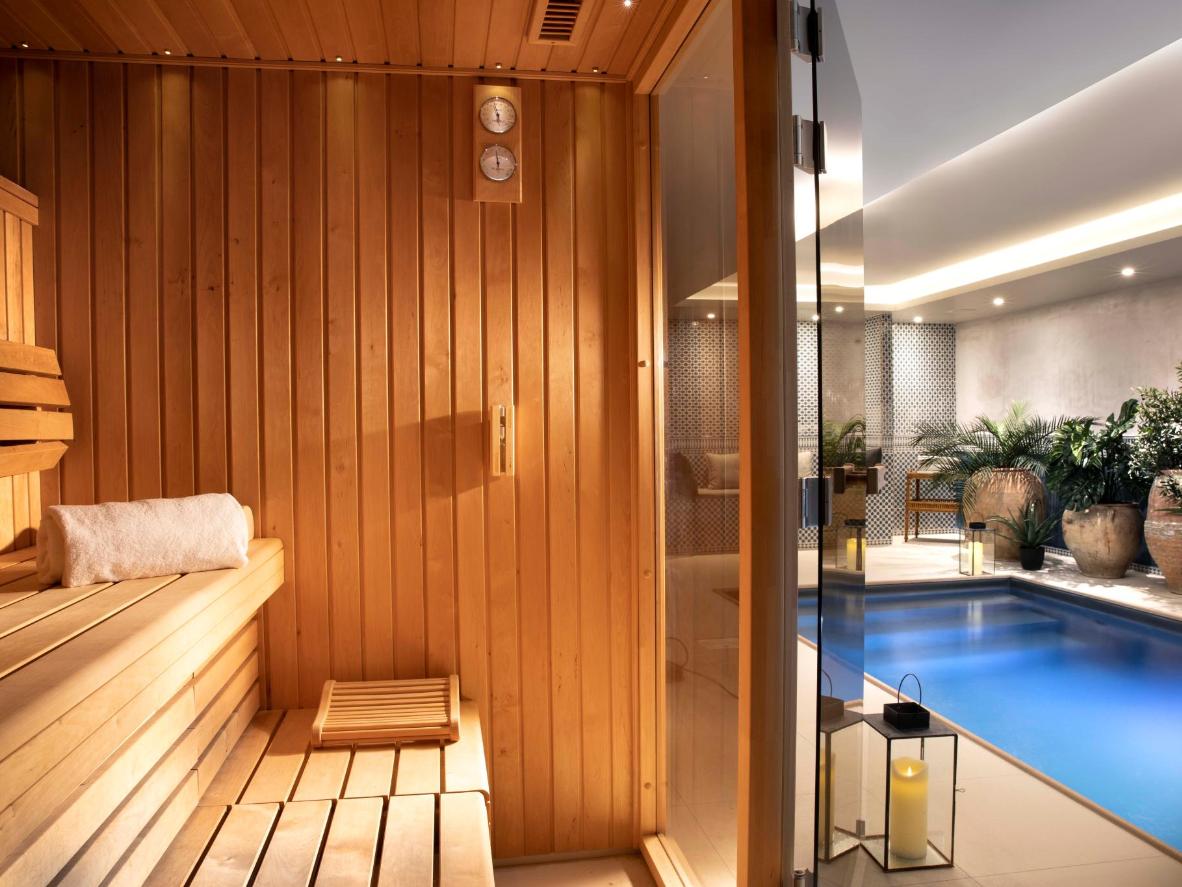 The famed French author Alexandre Dumas is responsible for penning the novel The Count of Monte Cristo, which served as the inspiration for the opulent design at Hôtel Montecristo. Tapestries, rattan furniture, and plush velvet upholstery can be found in the suites, all of which combine to create an atmosphere that will take you back in time to the 19th century. You can read yourself to sleep by the light of a painted ceramic lamp with a fringed lampshade or fall asleep while gazing at magnificent mural panels that are mounted over your bed. Bar 1802 in this hotel has the largest assortment of rum in all of Paris, so make sure to stop by there before you check out. Alternatively, there's the indoor pool, which features exotic plants, candles, and tiles in the style of Morocco, plus a sauna.
Hôtel Henriette

The charming
Hôtel Henriette
can be found on a peaceful street that borders the Latin Quarter in Paris. Inside, a floral-print fabric and patterned wallpaper create a relaxing atmosphere, which is enhanced by subtle details like vases filled with fresh flowers. The rooms are bright, colourful, and full of character, and they have vintage mirrors and parquet flooring. The apartments border a little courtyard area that is filled with greenery. Before venturing out to discover the neighbourhood's many points of interest, such as the well-known pedestrianised market street
Rue Mouffetard
and the Luxembourg Gardens, start your day with a cup of coffee served in a fine porcelain mug.
Chouchou Hotel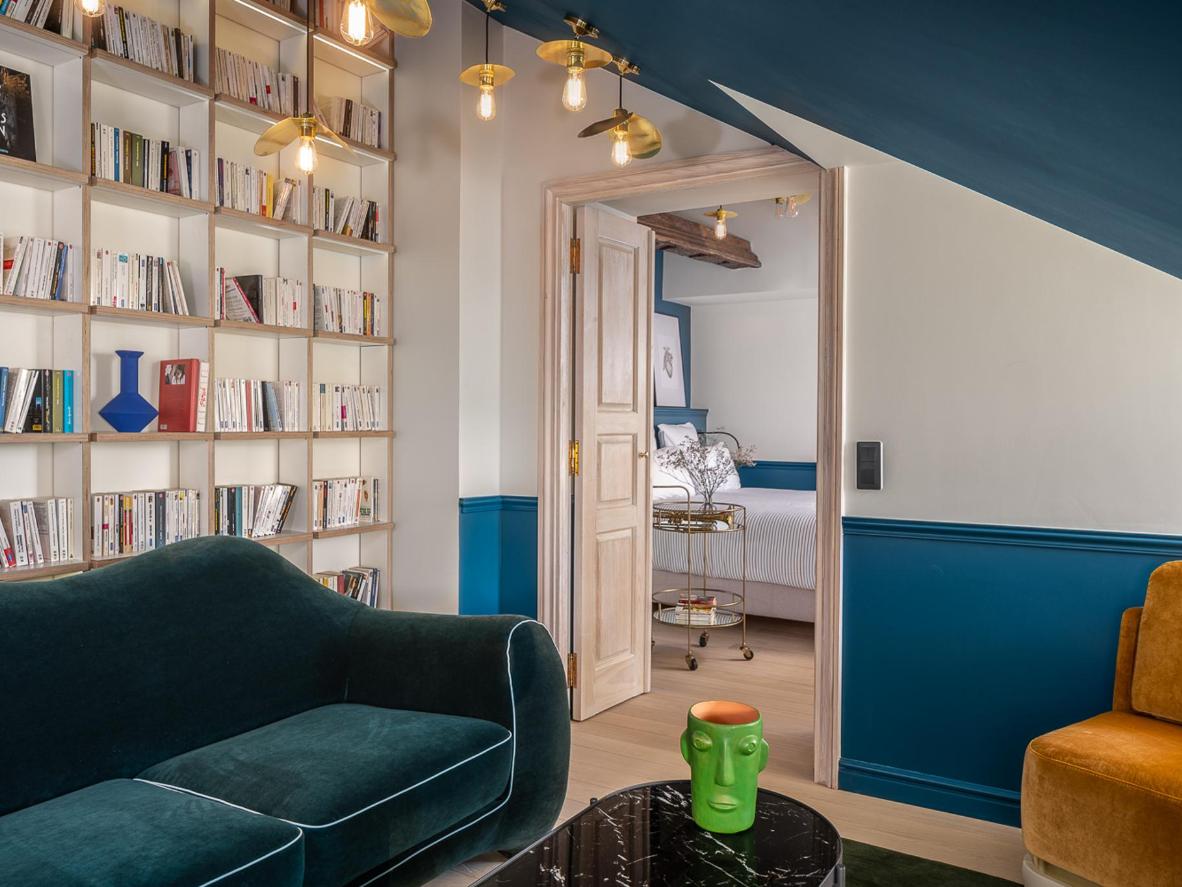 The beautiful Chouchou Hotel was given its name after a French expression of endearment, and it is affectionately covered in blue and white (a colour scheme that is characteristically French)—from the striped awnings gracing its attractive exterior to the marble and wood-panelled bar. The hotel draws both residents and tourists to its frequent live music events that it hosts as well as to its food hall-style restaurant, where you can discover good French wine and specialities like oysters and saucisson. The hotel also hosts live music events on a regular basis (dry-cured sausage). Upstairs, suites pay respect to French culture by having names like "La Vie en Rose," which is a tribute to the singer Edith Piaf, or by having framed images of the French legend Serge Gainsbourg.
Hotel Touraine Opera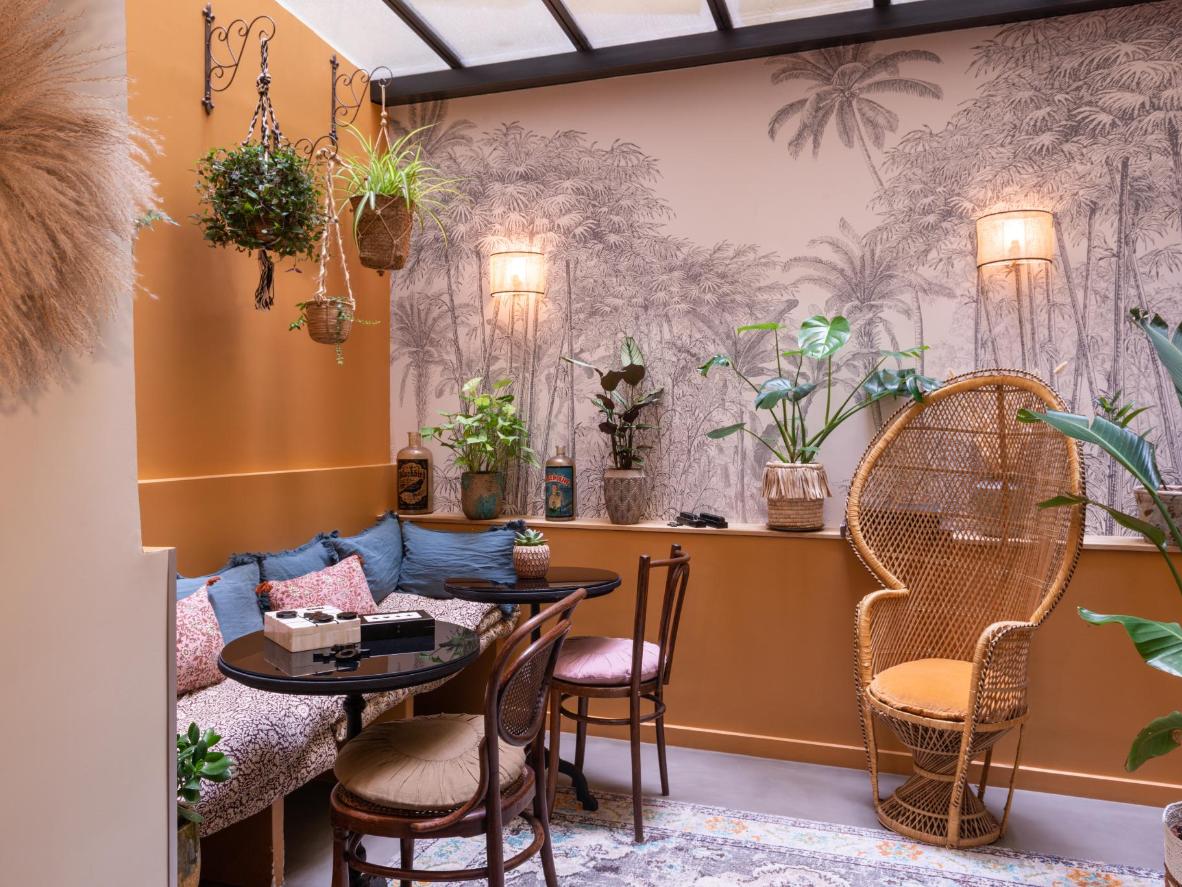 The Hotel Touraine Opera is a charming boutique hotel housed in a gorgeous, typically Parisian stone building. It is located in the ninth arrondissement, which is considered to be the core area of Paris. You may look forward to suites that are flooded with natural light and have wood-beamed ceilings, delicate picture frames on the walls, and printed bedspreads. Get some shopping therapy at the upscale Galeries Lafayette department store after you've finished people-watching from your balcony overlooking a typical Parisian thoroughfare. Galeries Lafayette is just around the corner from your apartment. You might also choose to unwind in the comfort of the hotel by making use of the sauna, the gym, and the sophisticated lounge.
Edgar Suites Louvre - Jour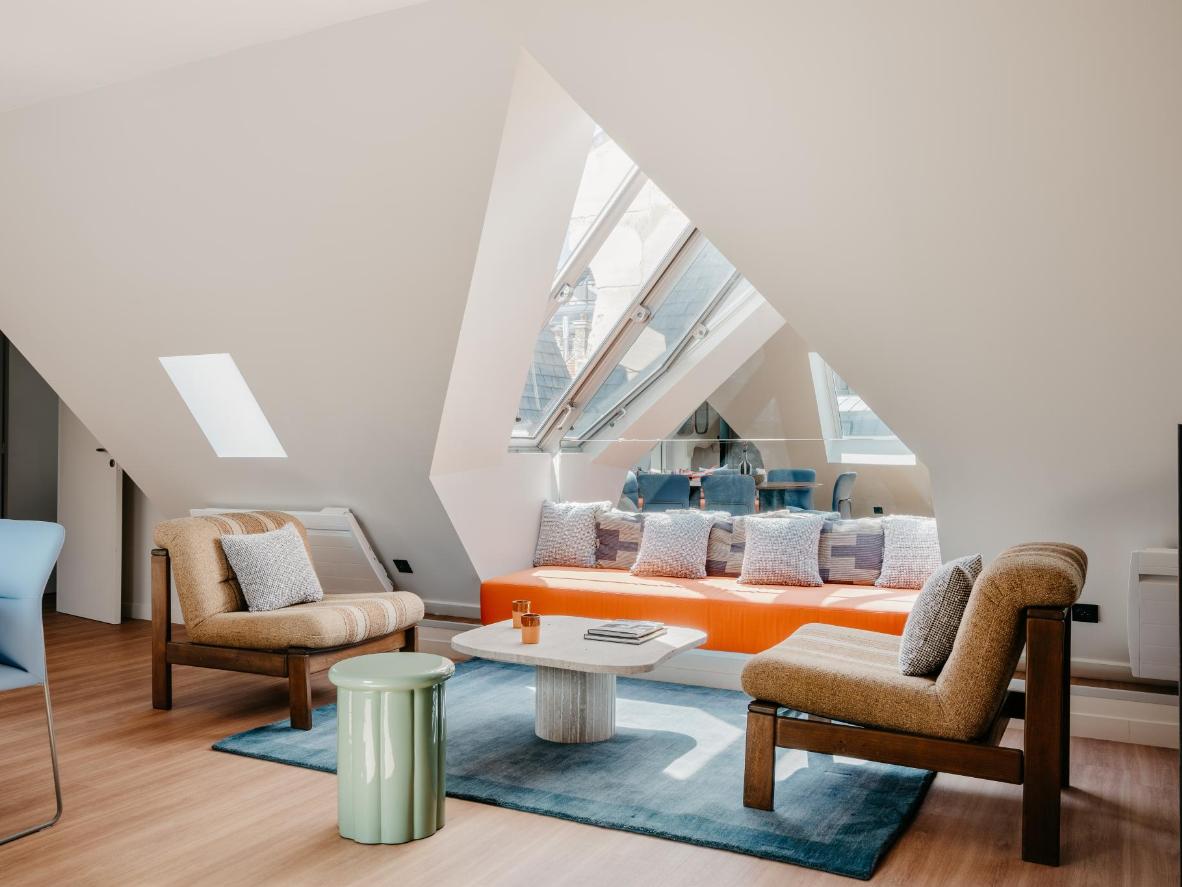 The
Edgar Suites Louvre-Jour
is located just a ten-minute walk away from both the Centre Pompidou and the Louvre, making it an ideal choice for travellers who want to conduct their sightseeing on foot. It is situated immediately adjacent to the Gothic St. Eustache Church as well as just around the corner from the well-known Forum des Halles shopping centre. To take a break from sightseeing, take a leisurely stroll around the Jardin des Tuileries or along the Seine river, both of which are conveniently located nearby. Pause on the beautiful islands of the Seine, Île de la Cité, and Île Saint-Louis for a café au lait before heading back to your roomy and stylish flat. Because stays of more than 30 nights are eligible for a discounted monthly rate, Edgar Suites is a practical choice to consider if you are in a position to remain in Paris for a longer period of time.
La Planque Hotel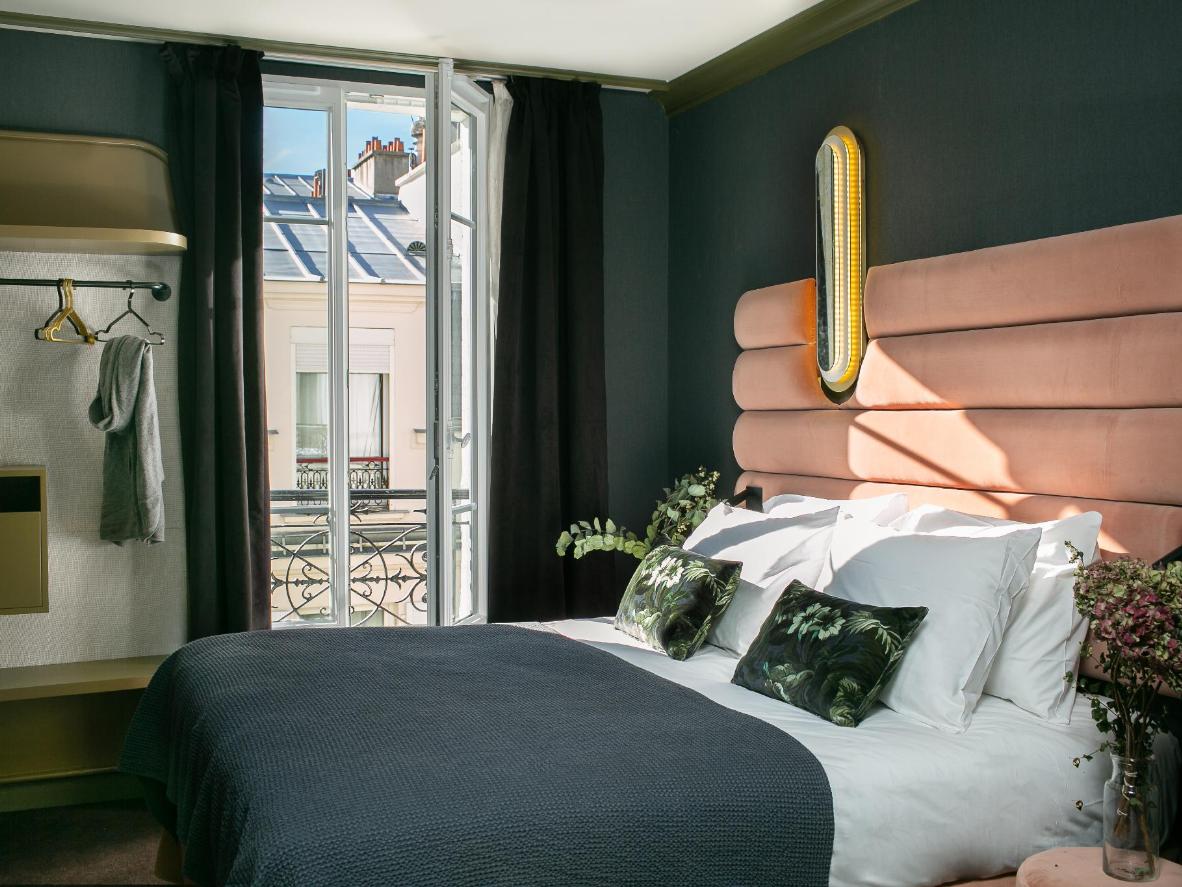 The
La Planque Hotel
, located between the hip neighbourhoods of
Canal Saint-Martin
and Belleville, has a fashionable aesthetic that is all about vintage elegance. From the outside, which looks like a brasserie with its olive green and burgundy colours, to the inside, which has bookshelves filled with antique oddities and furniture from Parisian flea markets, In the suites, windows look out over the picturesque rooftops of the city, and the walls are decorated in earthy, warm colours like mustard, grey, and blush pink. Relax in these rooms and take in the view. And while you're there, relax with a glass of wine in the terrace garden, which is decked out with potted ferns and a Moroccan tile floor in a teal colour.
Photos: Booking