What You Should Know Before Booking A Hawaii Cruise
The Hawaiian archipelago, perched in the North Pacific and surrounded by sparkling blue waters, appears to be designed for cruising. However, organizing a

Hawaii cruise

is more difficult than it appears. Due to its remote location and strict regulations, only a few cruises to this Polynesian paradise are available.
One of the numerous advantages of a Hawaii cruise is the possibility to see four islands in a week—a logistical achievement that would require several flights for land travellers. Cruising is also a cost-effective method to experience Hawaii, which is known for being an expensive tourist destination.
Last but not least, the natural beauty of the islands themselves is what attracts almost nine million people each year. Each of Hawaii's islands offers travellers unique and memorable experiences, such as cascading waterfalls, famed volcanoes, teeming marine life, and postcard-perfect beaches.
The following are the five most often asked questions about organizing a Hawaii cruise.
1. How long is a cruise to Hawaii?
Depending on the itinerary, Hawaii cruises might last anywhere from seven to 18 nights. Due to the islands' distant position, a cruise exclusively within the Hawaiian Islands sailing round trip to Honolulu is the quickest (and only) seven-night option, but any voyage from California to Hawaii will take at least 15 nights. There are round-trip sailings from Los Angeles, San Francisco, and San Diego, but expect to spend at least eight days at sea travelling to and from Hawaii. You'll be spending a lot of time on your ship, so choose wisely!
Because many ships alternate between Hawaii or Polynesia in the winter and Alaska in the summer, repositioning cruises to and from Hawaii is common in May and September when ships cross the Pacific. A frequent repositioning itinerary is a 10-night cruise from Vancouver, BC to Hawaii.
2. What cruise lines go to Hawaii?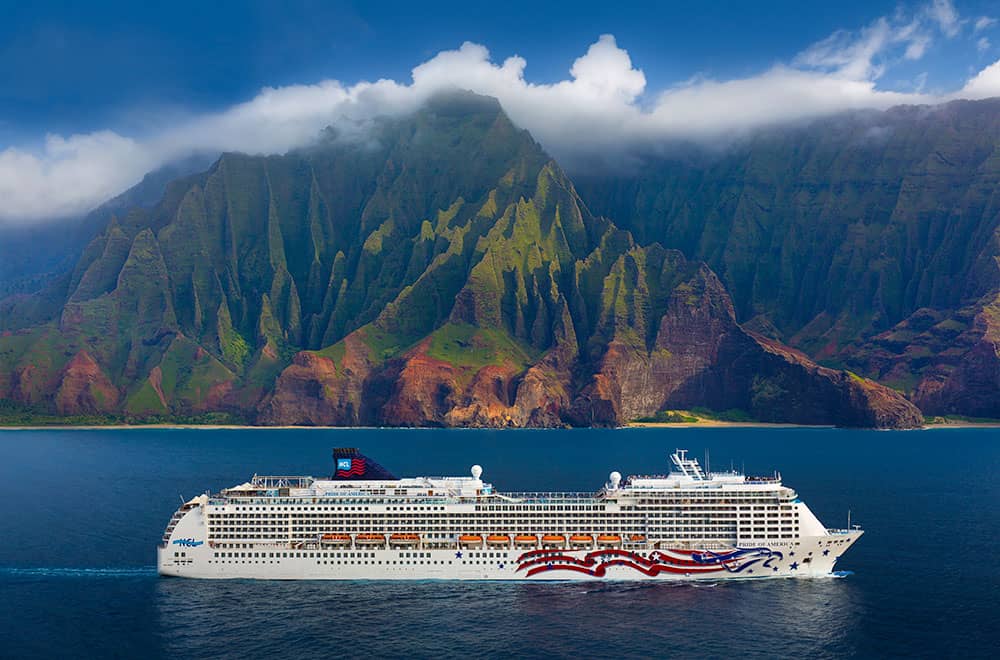 Despite the fact that Hawaii is a famous tourist destination, there are only a few cruise lines that provide trips to the island. Due to the rigorous rules for only operating routes within the Hawaiian Islands, this is a common occurrence. Only Norwegian's Pride of America presently fits the criterion of having a crew composed primarily of Americans and is registered in the United States. This means that just one cruise line can offer 7-night Hawaii trips, and they do it every week of the year with no breaks.
Sailing roundtrip from Honolulu, the Pride of America gives passengers 100 hours of shore time on Hawaii's gorgeous islands. To get the most out of your time on Hawaii's two most popular islands, you'll need to rent a car or plan multiple excursions, which are often required to see anything of worth beyond the pier.
Princess, Carnival, and Holland America all offer 15-night (or longer) cruises from California to Hawaii if you don't mind a lot of time at sea. This tour does not go to Maui's most charming town, Lahaina, which is included on most of the other tours, but this tour does. Ensenada, Mexico, the birthplace of the Margarita and home to some of the country's best vineyards, is frequently included in round-trip California itineraries.
From Hawaii to Vancouver, BC, Celebrity and Royal Caribbean offer a wide range of cruises. If you're on a lengthier, multi-destination trip that includes the Hawaiian Islands, you're more likely to see the islands.
3. When is the ideal time to go on a Hawaii cruise?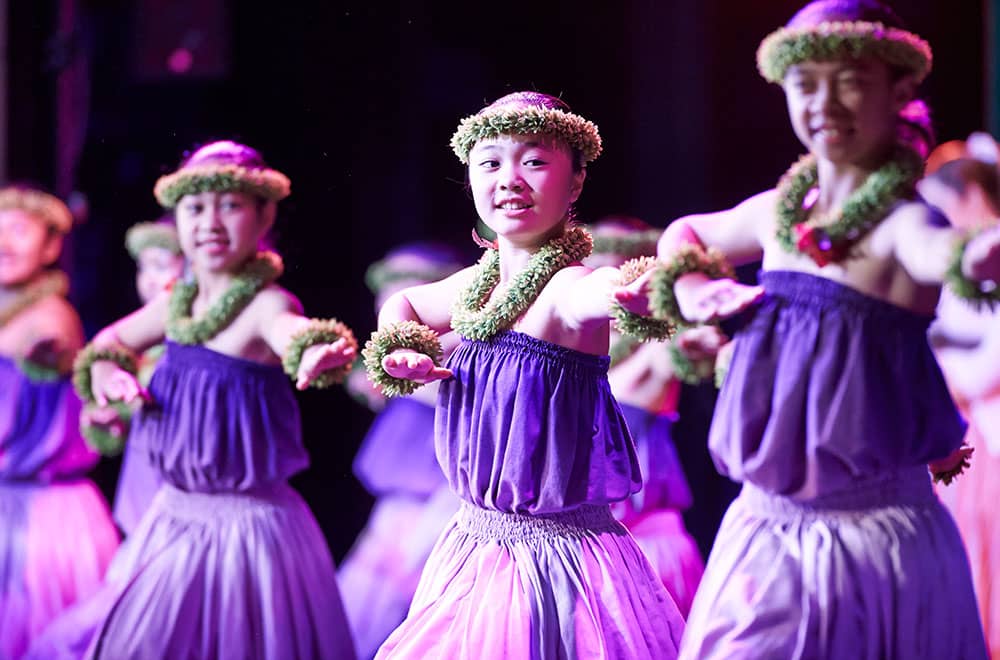 There is never a bad time to visit Hawaii because it has perfect weather all year. Between December and April, the islands have the greatest visitors (by land or cruise), however, this period also coincides with the "wet season." But don't worry, it never rains heavily or for long periods of time. April, May, September, and October have the most constant fine weather, and you might be able to locate a decent offer on a repositioning cruise during those months.
From mid-May to mid-September, you'll have the ports to yourself because the Pride of America is the only ship cruising Hawaii during that time. The beaches, on the other hand, maybe busy with locals enjoying their summer vacation.
If whale watching is on your bucket list, the optimum time to go is late February to early March when the calves are born.
4. Which Hawaii shore excursions are the best?

Unlike in the Caribbean islands, the major attractions on a Hawaii cruise involve travel away from the port, either in your own rental car or on a scheduled excursion. As a result, Hawaii shore excursions are incredibly popular and should be scheduled well in advance! The following are a handful of the best.

Volcanoes National Park can be reached from Hilo on the Big Island.

A visit to Volcanoes National Park, which is home to Kilauea and Mauna Loa, two of the world's most active volcanoes, cannot be missed during a visit to Hawaii's Big Island. Explore craters and lava tubes while learning about the Hawaiian Islands' volcanic evolution.

From Kailua Kona, Big Island, snorkel in Kealakekua Bay.

This marine sanctuary, which is most well-known for its Captain Cook memorial, offers some of the best snorkelling in Hawaii. Your zodiac will save you an hour of walking and will transport you to the nicest spots in the bay to explore. Turtles, marine caves, and maybe a pod of spinner dolphins make the area their home.

From Kahului, Maui, take the route to Hana.

Hana Bay's meandering road is famed, and for good reason! You'll stop at tropical waterfalls, black sand beaches, and stunning viewpoints along the way, including Ho'okipa, where you can witness some of the world's best windsurfers. This is a full-day trip that is best done before you spend the night in Kahului.

From Nawiliwili, Kauai, take a helicopter tour of the Garden Island.

Many consider Kauai to be Hawaii's most beautiful island, and there is no better (or other) way to experience the island's lush foliage and breathtaking mountainscapes than by helicopter, given that the majority of the island is unreachable by car. As you soar above magnificent waterfalls and towering pali (sea cliffs), a skilled local pilot will educate you about the island's history and folklore.
5. On a Hawaiian cruise, what should you wear?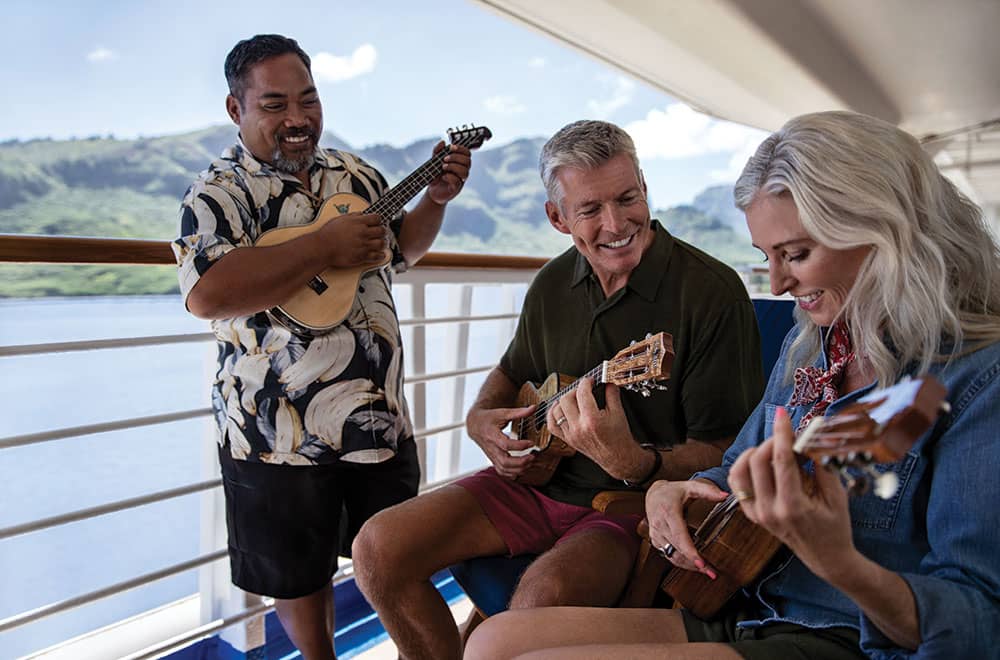 With year-round average highs exceeding 80° F, loose-fitting, breathable fabrics will keep you cool until your next ocean dip or air-conditioned respite. The local Hawaiian dress code is casual, as is typical of the aloha spirit, but your ship may have special activities to attend, so check your itinerary ahead of time. For example, Pride of America's White Hot Party is a white-attire celebration you'll want to pack for!
If you're going on an outdoor activity where you won't be sheltered from the elements, having a packable poncho or rain gear on hand is a good idea. Tropical storms are usually brief, but they can drown you!
Are you planning to climb one or more volcanoes? Layer up for the height shift because it can get chilly up top, especially if you visit at sunrise or dusk. Some tour companies supply jackets to keep tourists warm, but you should inquire if you should bring your own.
We hope you find this material informative as you plan your Hawaii cruise. You'll have a blast exploring this island paradise no matter what time of year you visit or who you're travelling with. To avoid disappointment, remember to arrange your excursions before you depart!